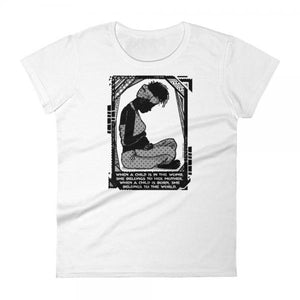 "World Baby Tee" 
This t-shirt is a product of Hathor Universal, an online resource that provides access to sacred knowledge to solve the challenges of modern day life. 
The proverbs noted on our shirts are the words of Ancestors themselves, coming from ancient African traditions that are thousands of years old. It is through the wealth of these traditions that the Ancestral Wisdom Collection was born. 
Check out more of our products at https://hathor-universal.myshopify.com/.  The Ancestral Wisdom Collection artwork is designed by fine artist, Marrwho Hasati. To check out more of his artwork visit https://www.marrwho-hasati.com/.